Increasingly, Twitter is becoming a long-form medium. It's not just the 140 vs. 280 character thing, but with the use of threads, writers can present rather extensive essays.
Every once in awhile I find threads which I think are worthy of being preserved somewhere more permanent. The writer may have envisioned something temporary — a kind of Snapchat prose — but the words deserve greater attention. So as we've done before — Skye Jethani, Mark Clark, Sheila Wray Gregoire, Steve Bezner etc. — we want to introduce you to a voice which is new here.
Thomas Horrocks resides in Bloomington, Indiana where he serves as pastor of Stoneybrook Community Church of God and also as a chaplain in the Indiana Army National Guard. He's co-host of the Sinnergists Podcast.

If you want to read this on Twitter, go to this link.
---
Okay, everybody. Time for a mini rant. As you may or may not know, I pastor a small church comprised of mostly older people, all of whom are wonderfully devout but basically none of whom have had any formal theological training. This probably describes most churches to be honest.
Today at my midweek Bible-study, one lady, who deeply loves the scriptures, brought to me a new translation of the New Testament that she obtained. It is called The Pure Word and bills itself as "an Unparalleled New Testament Translation From the Original Greek."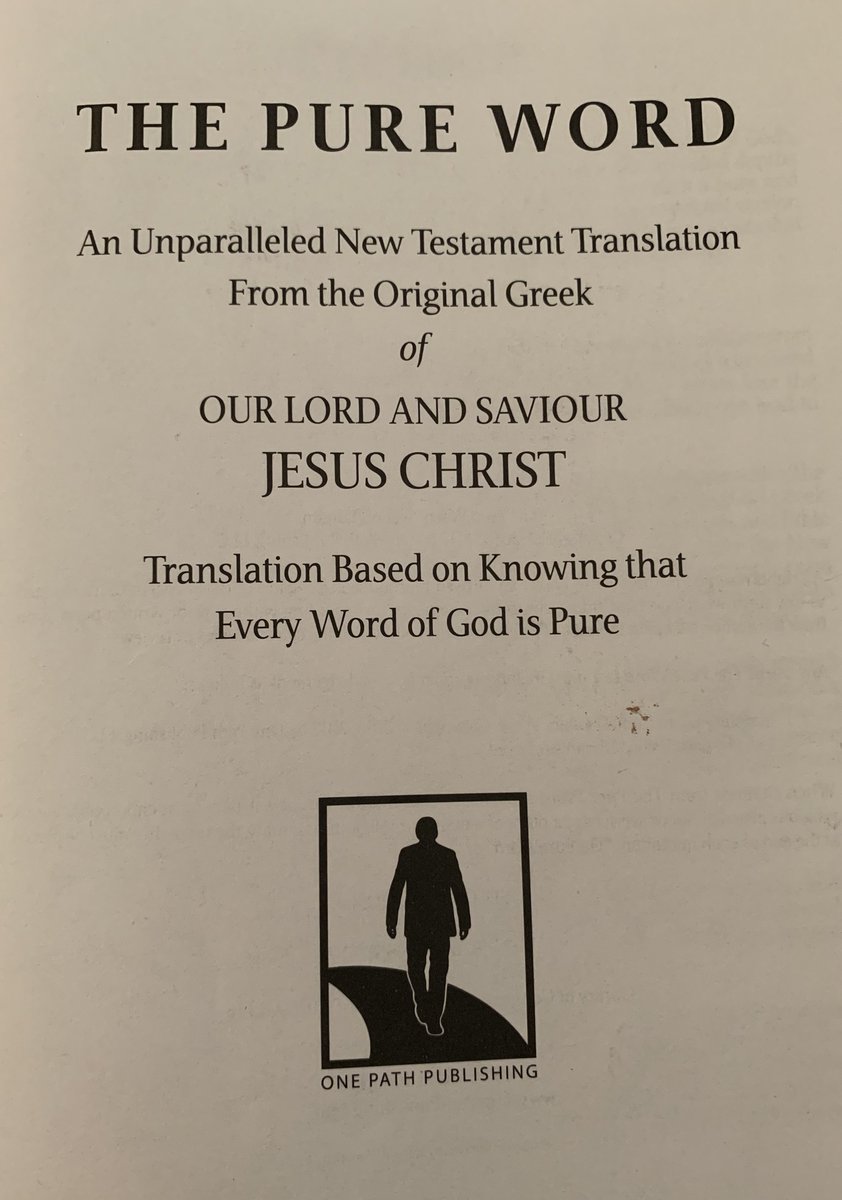 Naturally, having both an interest in Bible translations and the things my congregants want to show me, I asked if I could look at it a little closer. I started reading the preface and, folks, this thing is A. Train. Wreck.
Here's the first paragraph

"Never before has such a pure and genuine translation been completed."
Are. You. Kidding. Me?
This is the kind of thing I would write if I was writing a parody. But wait, it gets worse.
They employ a methodology they call "monadic hermeneutics" in which each they assert that each word has "an accurate, single definition." They, of course, base this in the Psalms that says "every word of God is pure." They explain:


"Each word…was intended to have a single specific meaning, never open to personal interpretation." Somehow these translators, and no one else ever, were able to "bypass personal interjection and cultural influence" and determine these "unambiguous and clear meanings."
It gets worse. They also capitalize any word "which pertain[s] to God's Attributes and Characteristics, God's Works, Works of the Holy Spirit in us, or Works of Angels (as opposed to works of man.)" This they determined, of course, without "personal interpretation."
"So," you're probably asking, "How does this work out in actual translation?" Great question.
Here is their translation of John 3:16, which they insist is "the original Greek to English translation,"

These people claim they are "Unveiling the Original Meaning After Nearly 2000 Years" and that they are "re-implementing the full and original Greek…as it was understood during the first century" and that this "is commonly recognized as the most accurate…in the world."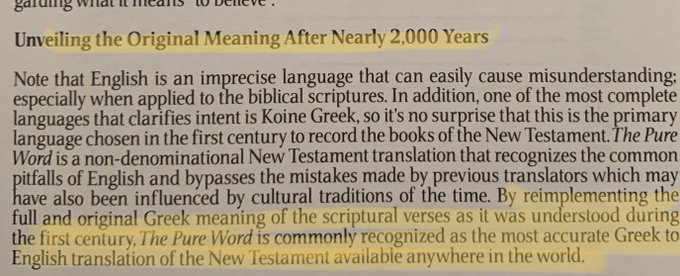 Now, anyone who has received any kind of training in Greek or Biblical interpretation knows this is all absolute malarkey. But the good-hearted people in our pews may not know this.
These people are preying on our peoples' desire for certitude and easy answers and using it to slip in genuinely debatable interpretation under the guise of The Original Word of God.™
We need to be teaching our people that the work of translation and interpretation is messy and that there things that debatable, things that are ambiguous, and things that are unclear, otherwise we end with this (below), but for real.